S
imon Carrington, Yale University professor emeritus, has enjoyed a long and distinguished career in music, performing as singer, double bass player and conductor, first in the UK, and latterly in the USA and round the world. From 2003 to 2009 he was professor of choral conducting at Yale University and director of the Yale Schola Cantorum, a 24-voice chamber choir which he brought to national and now international prominence. During his Yale tenure he led the introduction of a new graduate voice degree for singers specializing in oratorio, early music and chamber ensemble, and, with his faculty colleagues, he guided two Yale graduate students to their first prize wins in consecutive conducting competitions at American Choral Directors Association National Conventions. From 2001 until his Yale appointment, he was director of choral activities at the New England Conservatory, Boston, where he was selected by the students for the Krasner Teaching Excellence Award and from where he received an Honorary Doctorate in 2014. From 1994 to 2001 he held a similar position at the University of Kansas.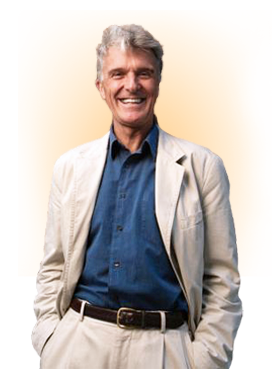 Prior to coming to the United States, he was a creative force for twenty-five years with the internationally acclaimed British vocal ensemble The King's Singers, which he co-founded at Cambridge University and which celebrated its 50th anniversary in 2018.
Simon now keeps up an active schedule as a freelance conductor and choral clinician, leading workshops and master classes round the world.
For the 2016-19 academic years he accepted the position of Visiting Professor of Choral Conducting to work alongside Simon Halsey and his students at the University of Birmingham, UK.
He divides his time between southwest England and southwest France where he lives with Hilary, his wife of 50 years. Their daughter Rebecca, cellist, singer, impressionist and comedian, lives in Berlin, and their singer-songwriter son James lives in Los Angeles.
» Simon's complete bio may be found here.